Taranaki Creative Fibre covers a wide array of disciplines; weaving, knitting, spinning, felting, dyeing. Many of the artists hold National awards and are experts in manipulating texture and form.
Each piece will be judged and prizes awarded across several categories which range from design expertise to the use of colour and specific fibres such as silk, alpaca, flax, wool, linen and cotton including a recycled category.

Guest artist was Rosalind Thomsen from Whanganui, with an emphasis on three dimensional work. Instead of mark-making on paper or canvas, she has been drawing in space, painting with threads.

Also featured is the Australia/New Zealand Travelling Tapestry Exhibition. This is a yearly challenge for tapestry weavers in both countries. This year the chosen title is 'Flight'.
For a weekend in June (11/12), over 70 artists throughout Taranaki opened their studios and workshops to the public – a chance for the community to meet with artists and learn the processes and skills of their craft. Percy Thomson Gallery was proud to host an exhibition of their works.
For more information visit the
Taranaki Arts Trail website.
This is the fourth year Percy Thomson Gallery has hosted 'The Connections' group of artists with new work and new artists. This year includes: Bielawski, Dorothy Andrews, Julia Chell, Elwyn Stone, Frances Rookes, Viv Davy, Sue Morton, and Antonia O'Mahony.
1–24 April 2016

The 18th International Collage Exchange, is a worldwide project co-ordinated by Taranaki artist Dale Copeland. Every year collage artists from around the world send a package containing thirteen collages to Dale's Puniho home studio, Taranaki. One collage from each artist is offered for sale, both online and in the Gallery, and another one becomes part of a collection which is donated to an art institute somewhere in the world. The other 11 (or 12, if theirs doesn't sell) are sent in mixed packs back to the artists.
4 – 27 March 2016
Five New Zealand artists share their love of birds, featuring Miranda Woollen, Martin Carrier, Margaret Scott, Lee-Ann Dixon, Justine Giles.
Members display of the Quilt Diva Challenge and their latest works. Quilts of various sizes, colour, techniques and craftsmanship.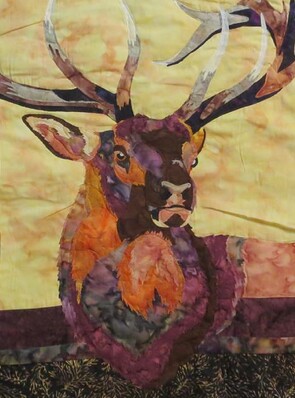 Edith Collier: Coastal Communities
18 December – 31 January 2016
This exhibition brings together works that Collier made in response to three coastal communities, where she lived and worked - Bunmahon, Ireland; St Ives in Cornwall, England and Kawhia, New Zealand. It was in these locations that Collier was most productive and the works produced during this time are some of the most memorable of her oeuvre.

The decision was to have a great impact on the subsequent development of her artistic career. First to St John's Wood, London, then on to Bunmahon in Southern Ireland, Bibury in the Cotswalds and St Ives, Cornwall where Collier was to experience the freedom and experimentation that the artist colonies in these areas provided. Influential teaching and friendship were provided through Margaret Preston and Frances Hodgkins. What resulted was a relatively brief period of rapid development of style, subject matter, colour and form, not to mention a considerable body of work.

Edith's artistic training began while a student at Wanganui Technical College in 1903, where she studied under Denis Seaward. Further encouragement came from local artist Herbert Ivan Babbage, a neighbour of the Collier family, who encouraged the artist to continue her training overseas. In 1912, at the age of 27, Edith Collier joined a number of enthusiastic young New Zealand artists of the time and left for England to become an expatriate.

In December of 1921, Edith Collier travelled home to Whanganui. Without the support she had received overseas from like-minded artists, and facing the family responsibilities expected of a spinster aunt and eldest daughter, Collier lost the zest for experimentation which had characterised her earlier work.

This situation was possibly due to Edith Collier's modest and retiring nature and dedication to her family. Apart from a productive period in 1927 when Collier spent time at Kawhia she all but put her training aside, with the exception of a few spasmodic efforts.

In her last 25 years, until her death in 1964, she had ceased to paint altogether.

This exhibition has been curated and toured by the Sarjeant Gallery Te Whare o Rehua Whanganui and generously supported by The Edith Collier Trust.
A culmination of a three year photographic diploma at the Southern Institute of Technology and a lifetime's interest in art has resulted in a range of photographic portrayals by local artist Sue Morton. Each image is digitally manipulated and alludes to the real person under the professional face that they present to the world. Interesting and clever manipulations with Photoshop coupled with great photographs of local identities.
Wharehoka Smith presents us with a series of new work that demonstrates a strong understanding and intuition for aesthetics, colour, detail, space and dimension and acknowledges the inherited skills of the traditional Toi Maori forms. This Toi Maori inspired exhibition offers our viewers the many possibilities of interior and exterior architectural design pieces with which to adorn and grace our homes and community spaces acknowledging, People, Place, History Tikanga and Matauranga Maori.

26 June – 19 July 2015
Home lands | Oakland is a collection that was grown out of time Milarky spent in Oakland - in areas not advised to go to - through observation and interaction. While there, Milarky was based in a small studio/garage where he kept his paint and parked his truck. This collection was researched and created while he was living in his truck.
Milarky gathered signs from locations all over Oakland, places he learned as being strategically good for street askers. This collection was inspired by the Homeless of Oakland, and the materials are a collaboration between conversations and trading of what was tradable.
Milarky added his members, which are derived from the signs' previous owners.
Milarky's website
Award winning professional photographer based in New Plymouth, Tony spent several months visiting and getting to know the locals in the central North Island town of Ohura. The results are a beautifully sensitive and confronting series of portraits that depict these individual characters.

Deep in the heart of King Country, at the end of 40 kilometres of winding gravel roads, is Ohura. New Plymouth photographer Tony Carter found himself there one day and became fascinated by the people from this small, isolated rural community. Another World: Portraits from Ohura is the result of 30 visits to Ohura over the following year.


Carter's arresting portraits offer a glimpse into the lives of his subjects. They are photographed against backdrops of treasured possessions, domestic clutter, faded posters and beloved pets. Carter's photographs are intimate, honest and direct – a view into another world.
Tony Carter's website
Humans desire to collect, hoard and attach to all sorts of weird and wonderful objects was the subject of the Curious Trophies exhibition. This thought-provoking, sometimes macabre and almost always amusing, collection of work included artists Dale Copeland, Carl Fairweather, Roger Morris, Andrea Daly, Tia Parker, Paul Hutchinson, Mark Curtis, Harriet Stockman, Paul Maseyk, Andrea De Chatenier and Stuart Shepherd. 'Trophy' gathering is something we all indulge in or strive to stop doing at many stages of life.


6 February – 1 March 2015
A life-size installation of an office cubicle, all carved from wood, even down to the drawing pins in the wall, based on Mr Anderson's cubicle in the iconic movie 'The Matrix'. The installation gives the impression that you have stumbled into someone's personal office space, not sure if you should enter, but drawn in nonetheless. It reveals the stilted 9 – 5 world of the white-collar worker whose daily reality and relationships are through the latent objects of communication.
This work was created during Hayward's artist's residency at the Rita Angus Cottage in 2012.
One motif. Thirty years of exhaustive exploration. Gordon Walters' koru series combines a customary Māori symbol with European abstraction in seemingly endless ways.

Developed as part of Te Papa's domestic touring programme the exhibition features screen prints and paintings alongside preparatory studies and illustrations, and gives an insight into Walters' approach not only as a painter and printmaker, but as a graphic designer.

Walters' obsession with the koru began early. As a boy, he spent hours exploring the Māori and Pacific works at the Dominion Museum, Te Papa's predecessor.

Also included are examples of Walters' graphic design, including covers for Te Ao Hou magazine from the 1960s, and his enduring work on the New Zealand Film Commission logo from 1979, which is still in use today.



For Māori, the koru symbolises new life and has a special place in customary art. Its use by non-Māori artists like Walters has been hotly debated. Even so, this series has found its own special place in the hearts and minds of many New Zealanders.
After 30 years of living and working together, Roger Morris and Marianne Muggeridge have collaborated in "Mid-life Retrospective: Portraits, Landscapes and 911", a show at the Percy Thomson Gallery in Stratford, Taranaki in March this year. Morris and Muggeridge live and work in a home-studio custom built by them in 1988-90, at the upper end of Oeo Road, South Taranaki, very close to the Mountain. Their work chronicles their lives there, and a just ended 11 year stint in Willis St. Wellington, as fulltime artists and parents, often featuring daughters Lucy and Myfanwy, and now granddaughter Azra.